Aug 30 2008
SHOCK: Deutsche Telekom could not give us DSL at our new place! The company said that all available lines had already been assigned to our neighbors. It's the year 2008 and one of the biggest – and supposedly most modern – telecommunication companies in the world still cannot provide all of its customers with a fast Internet connection!
Lucky us that there is UMTS/3G. At 384 Kbit/s downstream, it's not nearly as fast as our old DSL line was (which had 6 Mbit/s), but at least BASE, our provider, gives its customers a real flatrate, meaning that they won't throttle the connection speed after reaching a certain volume as Vodafone or T-Mobile do it. Base let's you go online for as long as you want and download as much as you want for 20 Euros per months. Considering the alternatives in the German mobile Internet market, this offering simply has no competition.
The downside is that Base officially only supports Windows, and getting the Huawei E169 USB stick (which came with the package) up and running on Leopard 10.5.4 was not as straightforward as it should have been. The first problem was that the stick's firmware was not fully compatible with the latest version of Leopard, but the good news is that Huawei has an updated version available for download here:
http://www.huawei.com/mobileweb/en/doc/list.do?type=-1&id=4381
But that leads us straight to the second problem: You need Windows to update the software on the stick! I don't know how moronic the software engineers – or their managers – at Huawei must be, but it seems there's quite a lot of space for idiotic software design at this company. So if you're a PowerPC-Mac user without a PC nearby, you're SOL (shit-out-of-luck).
I have a Vista partition on my Mac Pro, so I could install the firmware upgrade. Besides the fact that this lousy software design makes Uncle Bill (Gates) happy, the firmware upgrade smoothly went through and afterwards I could install the drivers on Leopard.
Important: While you're in Windows, use the USB stick's software to disable the PIN code verification!
Back in OS X, install the Mobile Connect software from the USB stick, which will conveniently appear as a storage device on your desktop. I do not use the device's Mobile Connect software for Mac to connect to the Internet, but I use Leopard's own System Preferences/Network dialog instead which will now show the device as a modem:
The phone number is *99#, the account name is eplus and the password is gprs.
Further settings in the Advanced section go like this: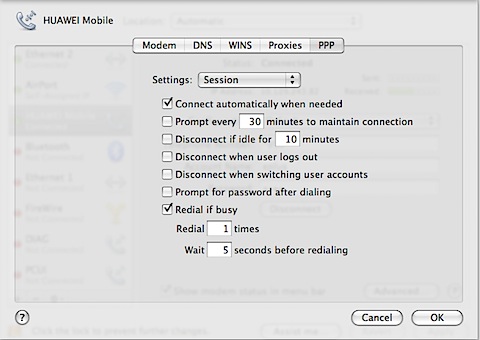 I have an Xbox 360 which talks to my Mac via Nullriver's Connect 360 software, and we have a few other notebooks in our house that need to go online somehow. I did not want to spend the money on of those fancy UMTS routers, and my old router did not play well in the new setup (I either got Xbox Media working or Xbox Live, but never both at the same time, and Leopard's file sharing also did not play well).
So to get things working in a finite amount of time, I chose to connect the Xbox 360 with an Ethernet cable to my Mac and to use the Mac Pro's built-in Airport card for sharing my Internet connection with the other computers.
The network cable is plugged into my second Ethernet interface, which uses the IP address 192.168.0.1:
In System Preferences/Sharing, I checked both Airport and Ethernet 2:
I use an encrypted wireless LAN, but it's up to you how you want to use it.
The network settings in the Xbox 360 must be manually configured, DHCP won't work with the Xbox. In my environment, I use these settings:
IP Address: 192.168.0.95
Subnet Mask: 255.255.255.0
Gateway: 192.168.0.1
Primary DNS Server: 192.168.2.1
The latter part is tricky and depends on what second network address Leopard's Internet Connection Sharing actually assigns to the shared network adapter. Open a terminal window and type in the command ifconfig to find that out. If you connect the network cable to the first network adapter, look for the addresses of interface en0, if it's the second adapter, look for the addresses of interface en1. On my machine, the Airport interface is en2.
If you have Connect 360 on your machine, you probably have to reboot both your Mac -and- your Xbox 360 for the changes to take effect. At least my machines are quite picky in this regard.
Connecting other Macs via Airport to the shared Internet line is easy and straightforward: Simply let each computer's Airport card automatically connect to the new wireless LAN and you will have Internet access on that machine.
It's not as 'professional' (and fast) as using DSL with a dedicated router, but it is a working setup that serves most of our current needs. We're back online and considering that our lives are still in a transitional period, it's probably a good thing to have a working relatively fast mobile Internet connection; chances are that we will move again should opportunity knock on our door.